Introduction:
In the world of Barbie dolls, there is always something new and extraordinary to capture the imagination. Today, we are thrilled to introduce the latest addition to the Barbie collection – a one-of-a-kind doll inspired by the legendary Empress Elizabeth of Austria. With her long hair and stunning features, this Barbie pays homage to the timeless beauty and elegance of the Empress, while also incorporating a unique twist – a head with two different hair colors, pink and black, reminiscent of a lovely Asian princess. Let's delve into the enchanting world of this exceptional Barbie and discover what makes this Asian Princess truly special and unique.
Empress Elizabeth of Austria: A Timeless Icon of Beauty and an inspiration for a unique Asian OOAK Princess
Known for her mesmerizing beauty and regal grace, Empress Elizabeth of Austria, also known as Sisi, captivated the hearts of people all around the world. Her long, flowing hair was one of her most defining features, symbolizing her untamed spirit and individuality. It is this very essence that has been captured in the design of our Empress Elizabeth-inspired Barbie.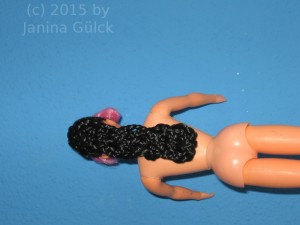 The Uniqueness of Two-Toned Hair for this Asian princess:
As we celebrate the diverse beauty of the world, our Barbie designers wanted to create a doll that would represent the enchanting allure of an Asian princess, while also adding a touch of unconventional style. This led to the creation of a head with two different hair colors – pink and black. The contrast between the vibrant pink and the sleek black combines to create a striking and unusual look, truly befitting an extraordinary Barbie.
The Asian Princess Influence:
The incorporation of Asian princess-like characteristics in this Barbie further enhances her allure. From her delicate facial features to her elegant attire, every detail has been meticulously crafted to reflect the grace and charm associated with Asian princesses. This fusion of cultural influences adds a touch of mystique and richness to the doll, making her a truly unique addition to any Barbie collection.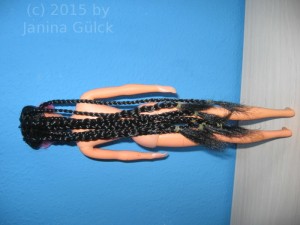 A Doll that Inspires Imagination:
Beyond her stunning appearance, this Empress Elizabeth-inspired Barbie is designed to inspire endless imaginative play. Whether she is embarking on royal adventures, attending grand balls, or making a fashion statement, this doll encourages children to explore their creativity and create their own captivating stories. With her long hair and versatile styling options, children can experiment with different hairstyles, allowing their imagination to soar.
Conclusion:
In a world where beauty knows no boundaries and imagination reigns supreme, the Empress Elizabeth-inspired Barbie stands as a testament to the power of individuality and cultural diversity. With her long, two-toned hair and Asian princess-like aura, this doll is a celebration of uniqueness and elegance. Whether you are a collector or simply seeking a doll that encourages imaginative play, this one-of-a-kind Barbie is sure to captivate both children and adults alike. Embrace the enchantment of the Empress Elizabeth-inspired Barbie and let her transport you to a world of beauty and imagination.