In the last weeks you have not heard from me every week. I was busy on other channel, not just doing videos but I continued to repair stuff for you. Last year I found a Francie " First Formal" from the 60s. It's great to have this outfit but it has also a negative side to own old fashions. Within the years light fabric gets stains and this was also the case here on my First Formal. I got some advice from senior collectors to be careful when cleaning it because the pink bow. You know Mattel did not pre-wash all the fabrics. From what I have seen and learnt along my repair journey they did it not with every fabric. So be very careful when you want to clean things. You may be lucky but often the fabrics start to bleed until you think they are completely discolored. In fact they are not but you just pre-washed them. Congrats.
When you are in this situation you may think " Great, I find a solution" or " what the hell is happening here" or " I wish I had never done this". In the first part of the cleaning I literally thought "what the hell is happening" here. My idea to separate body and skirt was a total failure after my first attempts to clean the dress with soap, water and baking soda failed because of the delicacy of the fabric. After my first attempts it was clear to me that I did not get the success I wanted and I did not want to ruin the dress. Original Francie fashions are expensive in Europe. I decided to take the risk, remove the bow since it was the bleeding factor and I knew it before I started. I trashed all my plans in one moment and started to use Boost, a cleaner for old fabrics I bouth last year. It's really good in getting stains out. I wasn't sure if the upper blue top part would bleed but soon realized that it did not start to bleed. To my own surprise the luke warm water changed into a pee like color after not even two hours.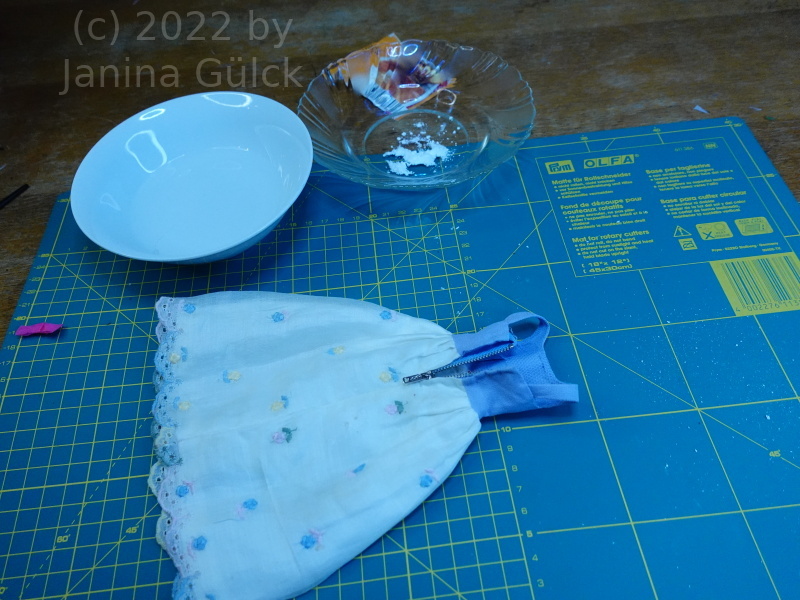 I let the Francie dress in there for at least 24 hours to remove all the stains and dirt from the last 5 decades. I used two bowls to get all the dirt out. After the stain removal the dress became completely white again. I thought it would have been designed as a cream tone. I did not expect it but it's great. It's great that all stains are gone now.