I'd like to share another article about my Barbie wiki today on another sister of Barbie called Kelly. Kelly is in variation still today available on the market but I'm not so much interested in the new doll called Chelsea. The name was changed to Chelsea in 2011.
I'm going to give you all information I found and know about Barbie's baby sister Kelly and her early years. Baby sister Kelly was available in 1994. She was developed by Carol Spencer, a longtime Mattel employee, who started her career in the 1960s at Mattel. As far as I was able to find out Kelly her very own project. She wrote about this time in her recently published book called "Dressing Barbie".
Love at first sight with Shelly
I really loved the doll the first time I saw her in a catalog. She was so cute and I decided that I wanted to buy everything I could find for and about Kelly. That was in 1995. And from the early years I have almost everything in my collection.
Carol designed all her clothes. Kelly was known as Shelly in Europe and Canada. Maybe a decision for better sales figures? I have no idea why they changed her name for the European market but in 1995 she was also available in Europe too. I would estimate that she was approximately three or four years old in 1995. The first edition of Kelly "Bedtime Fun Kelly" included a Kelly doll with a pink pyjama and a baby bed. She also came with a Sunday dress made out of black velvet and lots of toys . A short while later she got three friends. They were called Susie, Chelsea and Melody.
Sieh dir diesen Beitrag auf Instagram an

. ????? ??? ?? 4? ?? ?? (??? ? ??????) . ????? ??? ????? ??? ??? ???? ?? ????, ???? ???? ???? ????? . ??????? ??? ?? ???? ???? ??? ??? ??????? . ??? ???? ???? ? ? ???? ??? ???? ????? . #???? #???? #???? #????? #???? #??? #???? #?????? #?? #??????? #???? #???? #babydoll #vintagetoys #vintagedoll #dollstagram #kellydoll #barbiekelly #tommydoll #kellyfashion #dollclothes #gomgomsister
They reminded me of a comic

I'm not sure but I think in 1995 there was also a very big gift set with Barbie, Skipper, Stacie and Kelly having fun on a big sleigh known as Winter Holiday gift set. This set it very special because Skipper is one of the few dolls with the back then recently newly introduced Pizza Hut face mold which is lovely but different from the mold that was used before. Kelly in her snow suit always reminded me of character of a Japanese comic series inspired by Louisa May Alcotts "Little Women". Maybe that's why I wanted the set but I'm not sure. I had no set with all four sisters until then.
Sieh dir diesen Beitrag auf Instagram an

Snow Time ?? #barbie #barbiewinterholiday #barbiewinter #barbieholiday #barbiechristmas #barbiestacie #barbiekelly #barbieshelly #barbieskipper #barbie90s #barbiegirl
Many sets and dolls became available
Later in 1996 there was the first Barbie Kelly gift sets called Strolling Fun Barbie and Kelly this set came with a stroller. Shelly was able to move her on arm while sitting in the stroller. In 1997 there was another Kelly Barbie gift set called Shopping Fun gift set. In this set Kelly sat in her shopping cart. She had magnet in in her hand. She was able to hold a pair of prepared boxes (also with a magnet). In 1996 she was also produced as Bathing Fun Shelly. I found two variations in pink and yellow for the trim of her towel and bathrobe. I also found variations in the dolls themselves. One of my Bathing Fun Shellys has Saran hair and the other one has Kanekalone hair.
Sieh dir diesen Beitrag auf Instagram an

Barbie & kelly strollin fun Th. 1995, rare.. dus rusak tapi isinya bagus, new ya masih segel (kenangan anak 90an) sold . . . #jualbarbievintage #barbie1995 #barbiestrollinfun #barbiekelly #barbie90s
Sieh dir diesen Beitrag auf Instagram an

Q&A ???? ???? ??? ????? #kelly ?? ??????? #shelly ?? ?????? ?????? ?????? ??????..? shelly ??. ?????? ????? ?????? ??? ?????????? ??????!! Shelly ?? ??? ??????? ??? ?? ????? ??? ?? ?? ????? ?? ??? ??? ?????? ???? ??????~ ???? kelly? ??????? shelly ???? #barbiekelly#barbieshelly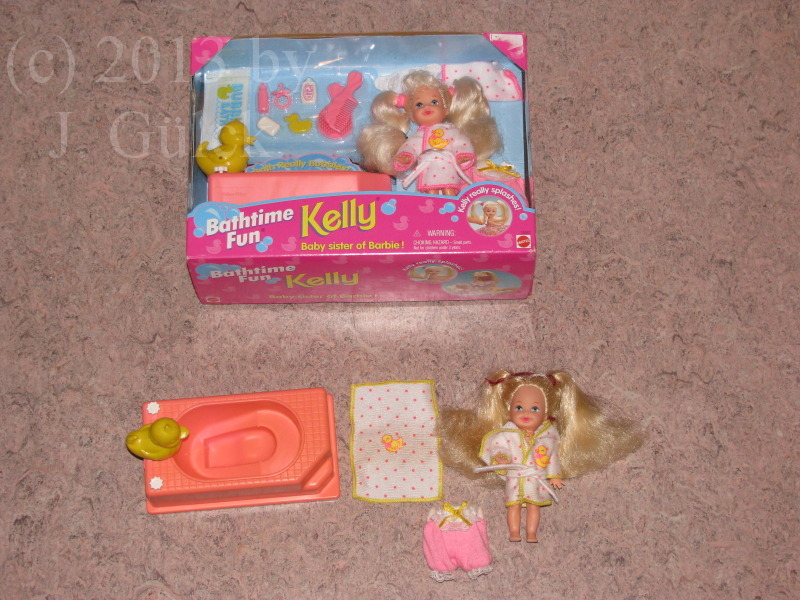 In 1997 she got her potty training set. The Potty Training Kelly has a bottle you could really fill with water and then push on the heart button on her belly to make her pee. I think it was a similar mechanism like used for the drink and wet dolls but in a much tinier execution.
More functions

Carol Spencer produced several very sweet clothing sets for her in in the first years. I have made lots of pics of early outfits which you can find here http://barbie.final-memory.org/my-shellykelly-fashion-show/. These sets very not only available for Kelly but in in a combination for Barbie and Kelly. They got matching styles.
Sieh dir diesen Beitrag auf Instagram an

Fashion Avenue Matchin' Styles (1996) ???? #barbie#fashionavenue#barbiematchinstyles#barbiefashion#barbiestyles#barbiewardrobe#barbieclothes#barbieoutfits#barbiekelly#barbiesisters#kellyclothes#kellyfashion#doll#barbiedoll#barbiecollector#dollcollector#90s
There was also Pool fun series shown in advertisements. I had a long time problems to find out if this series was produced or or if it was was only a prototype shown in the advertisement (like often in catalogs in the 1990s). In 2007 or 2008 I finally found her and her friends and I know this series was produced and I got mine. http://barbie.final-memory.org/a-first-impression-of-my-shellykelly-collection/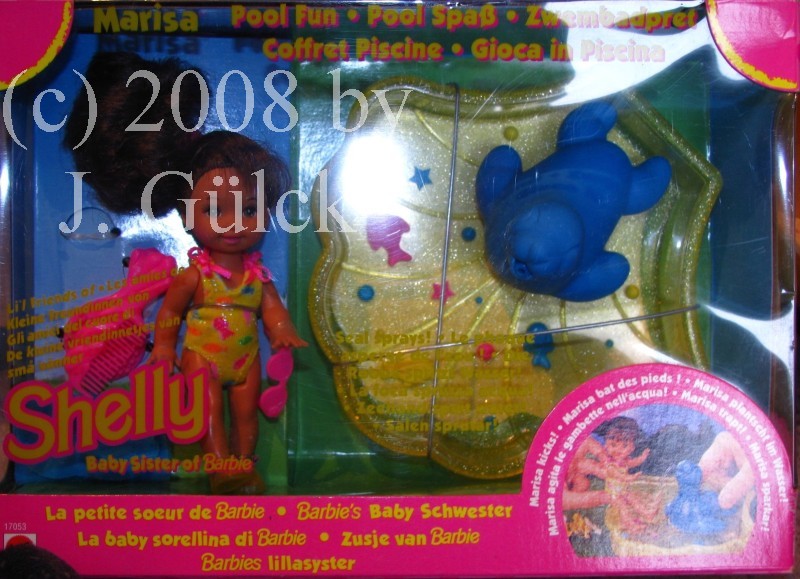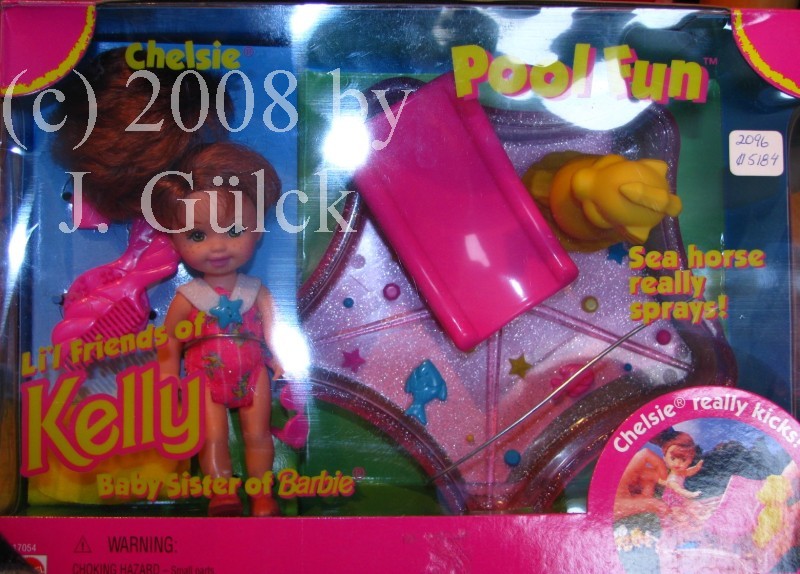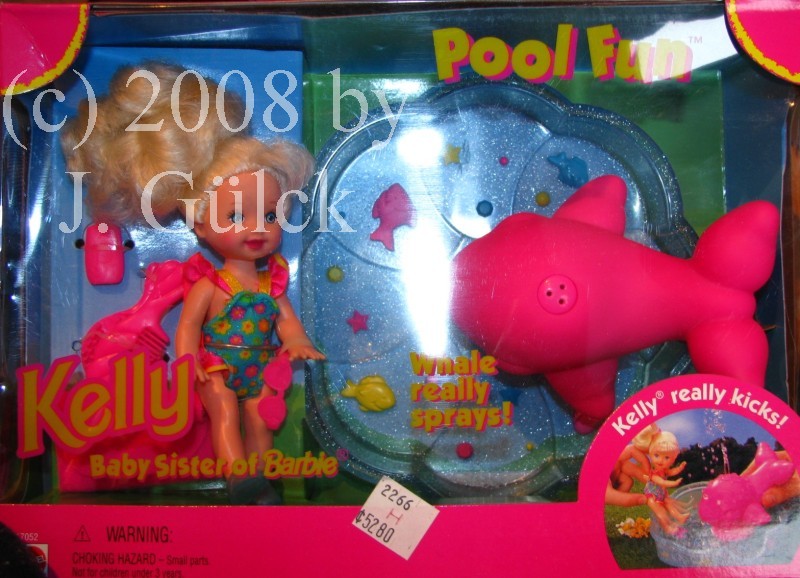 Kelly goes abroad
Eating Fun Shelly/Kelly was introduced in 1997 but I can't tell you how the mechanism works since mine is still in box. After that came in 1997 there was another set with all four sisters called "Travelin Fun Sisters" https://images.app.goo.gl/Cj4XFoZgRGVNEkh48. Last year I furthermore found the Power wheels Jeep set with Shelly and Tommy (male baby counterpart for Kelly). In box this set is hard to find and it's often very expensive. So I had to wait a long time until I found one.
I have for example many sets of early Kelly/Shelly sets. I'm going to divide this article in at least two parts. Next part is coming soon.