I decided short-term today to buy tickets to the Barbie movie that will be aired in the cinemas in July 2023 after being undecided about it. Our local cinema offers a pre-premiere on July, 19th 8.00p.m. The tickets were just printed. I bought them by the end of June.
I'm surprised now what will expect us. Normally I'm no big fan of Barbie movies. As you probably know I grew up in the 90s and we had only cassette-tapes and radio plays of Barbie but no movies and no Barbie series in TV . What I don't know is if these cassettes were also outside of Germany available in other foreign languages or not. For me Barbie had a voice but no appearance in any movie but in the catalogs that we got every six months for free from out toy stores with the wonderful name of "Barbie Journal". I have already written about this in the past and I'm pretty sure I already reported about it in one of my videos.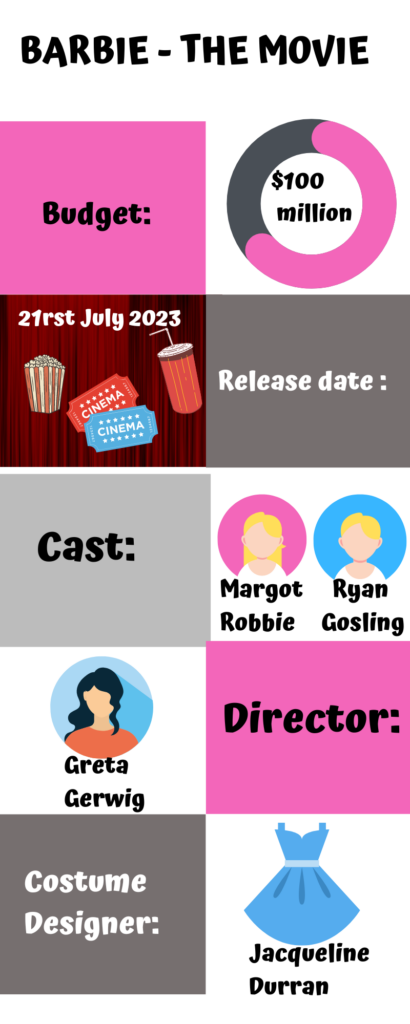 We already learned that the first dolls from the movie are already available online but in my opinion it's too expensive for what this will offer. The car could be interesting but this is also way too expensive from what I have seen and no we have no Walmart around the corner. I have also seen some trailers of the movie. Let's see if I can link them here.
I admit I had to laugh when I saw it. Somehow the trailer was in its own style funny. Maybe we see some great 90s outfits? In a deep corner of my childhood "Me" I'm surprised what this movie will offer. Will it be a joy of creativity and met my expectations or will it just be a trashy movie of a fashion doll that was the best sold fashion dolls by the end of the 1990s? Who knows? I will see the movie and tell you right after having it seen. By the way there are some other trailers available. The "B" in the movie poster is the one that was used from 1977 until 1991. Maybe this is also an aspect that made feel deep inside curious about this movie.
Here's my crazy idea what to wear for the cinema. I have a lot of retro cut 50s inspired dresses like this one from Pinup Couture. Pinup Couture is cutting very small but I had the luck to find an unused Stella music dress last year that a professional tailor cut down to my size. So I have this wonderful music inspired dress that I love to wear and now I even have an occasion. Wanted to wear it for several weeks now. Instead of posting a pic of myself here I share a professional one that is done for promo reasons.
I also decided to put one of my Ponytail Barbie dolls, yeah the really old ones, in a box and take her with me to the cinema for making a pic in front of the ad we will surely find in the cinema. By the way this is an idea of my boyfriend.
Time to wait and go to the premiere of Barbie – the movie ! Until then! Have lots of fun. I will write a short blog post after the visit.