Well, I'm going to tell you an interesting story today. When I was 11 years old I saw a promo pic of the Pool Fun Kelly and I wanted to have her for my collection. She was cute and I liked Shelly/Kelly from the very first start. Cute face, cute doll!
I don't remember exactly where I saw the pic. Maybe it was a promo calendar or a Barbie Journal. Anyway, I saw her and I wanted her but for some reasons I don't know she was never available in the town where I came from. I searched but I didn't find her. For a long time I tried to find out what was going on in times before the Internet was a wide spread medium. I found no information, nobody knew anything. I thought maybe it was a fake.
Many years later I suddenly found an Afro-American version of the Pool Fun Kelly in the US. I bought her immediately. Here's a pic.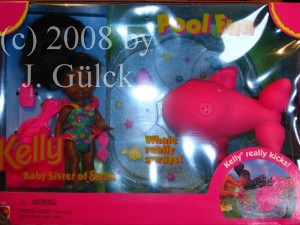 With the name I was able to find out more about this series.  I found out that  this series was released but nothing more. I was later  (approx. in 2005 or 2006) able to find the other dolls.