Table of Contents
Introduction of the evolution of Barbie and her family:
In the world of dolls, Barbie has undeniably left an indelible mark. Since her creation in 1959, Barbie has captivated the hearts of countless children and collectors alike. However, Barbie's journey was not a solitary one. Throughout the 1960s, Barbie's family grew, introducing a diverse cast of characters that added depth to her imaginative world. Let's take a look back at the evolution of Barbie's family during this iconic era and have a look at the evolution of Barbie and her family with a nostalgic journey back to the 1960s.
1959: Barbie, the Trailblazing Fashionista
Barbie made her debut in 1959, breaking the mold with her stylish fashion choices and glamorous lifestyle. Created by Ruth Handler, co-founder of Mattel, Barbie was named after Handler's daughter, Barbara. With her chic attire and sophisticated demeanor, Barbie quickly became a role model for young girls everywhere.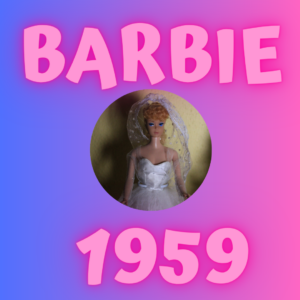 First Barbie from 1959
1961: Ken, Barbie's Dashing Companion
Two years after Barbie's introduction, Ken stepped into the spotlight. Named after Handler's son, Kenneth, Ken became Barbie's dashing companion. With his charm and impeccable fashion sense, Ken perfectly complemented Barbie's elegance. Together, they embarked on countless adventures, capturing the imagination of children across the globe. I wrote an article about the early Kens last year which you can read here http://barbie.final-memory.org/ken-ken-or-ken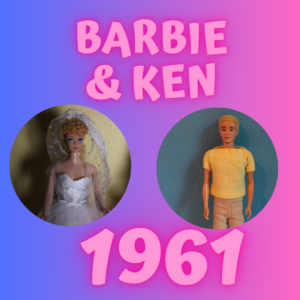 1963: Midge, Barbie's Best Friend
In 1963, Barbie welcomed her best friend, Midge, into her ever-growing circle. Midge was known for her vibrant personality and her infectious laughter. With her cheerful demeanor, Midge added an element of fun and camaraderie to Barbie's world. The bond between Barbie and Midge showcased the importance of friendship and support.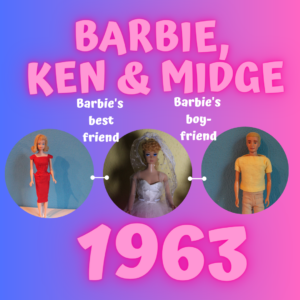 1964: Skipper, Barbie's Adorable Sister and Ken's best friend Alan
The following year, Barbie's family expanded further with the arrival of Skipper and Ken's best friend Alan, who is also regarded as the boyfriend of Midge. As Barbie's younger sister, Skipper brought a youthful energy to the mix. With her playful spirit and trendy outfits, Skipper became a beloved character among young Barbie enthusiasts. Together, Barbie and Skipper embarked on countless sisterly adventures, fostering the importance of sibling bonds.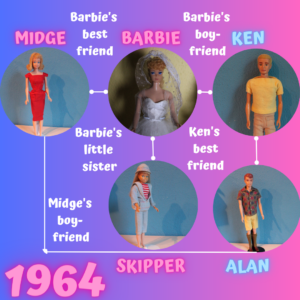 Like Barbie, Skipper and Midge go out to the city, Alan and Ken also spend their free time together going hunting or for a Saturday night dance. Alan has the same size like Ken. They are designed to share their clothes. Alan is also the secret hero of Barbie – the movie, the one with his striped beach shirt that probably nobody outside the Barbie community can identify without problems. Alan is easy to identify by his red hair. After being introduced in 1963 he disappears in 1967 and re-appears in 1990 to marry Midge after a friendship of almost 30 years. Isn't that incredible?
1965: Francie, Barbie's Fashion-Forward Cousin
Barbie's cousin, Francie, made her debut in 1965. Known for her impeccable fashion taste and avant-garde style, Francie pushed the boundaries of fashion and became an inspiration for young trendsetters. Her presence in Barbie's world highlighted the importance of individuality and self-expression.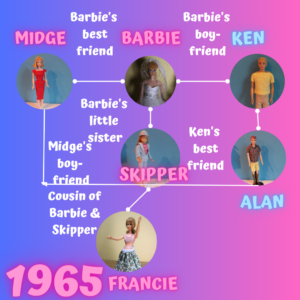 1966: Tutti, Barbie's Cherished Baby Sister and her twin brother Todd
Barbie's family was completed in 1966 with the arrival of Tutti and Todd, Barbie's adorable baby sister and baby brother twins. With their innocent charm and tiny stature, Tutti and Todd captured the hearts of both children and adults alike. Tutti's and Todd's inclusion in Barbie's world emphasized the importance of family and the joy that younger siblings bring.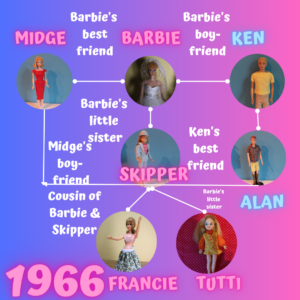 Conclusion:
Barbie's journey through the 1960s was not just a personal one. It was a journey of growth, friendship, and familial love. As Barbie's family expanded, so did the opportunities for imaginative play and storytelling. Through the introduction of Ken, Midge, Skipper, Francie, and Tutti, Barbie's world became more diverse and inclusive, reflecting the changing times of the 1960s. These iconic characters left an indelible mark on the hearts and minds of children, ensuring that Barbie's legacy would endure for generations to come. In the late 60s the first black friends of Barbie were available. They are maybe worth another blog post since some friends are new in the Barbie world while others disappear again without any trace.