Today I cleaned a new Barbie doll in my collection. She's from the 1980s and she's from Spain ( made by Congost). I know it's hard to find any information about Congost but they produced Barbie dolls under license in the late 1970s, 1980s and 1990s for Mattel. I don't know how many they produced but they must have produced a lot. I have heard that the quality is not the best one but anyway I like them.
This one arrived here only hours ago and since it's Saturday I had time to clean her immediately. I can't repeat myself often enough to tell you how easy it is to clean an old Barbie doll. I think I removed the dust and dirt from decades. You just need rubbing alc. and some Q-Tips. You dip the Q-Tips in the alc. and remove the dirt. Some collectors may say that it is dangerous because of the knee joints but I never had any problems with rubbing alcohol. You can literally see the dirt on the left leg. The right one is already cleaned.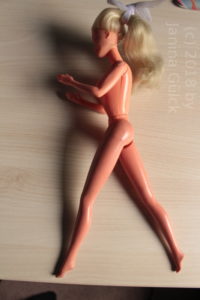 After the procedure I had a lot of dirty Q-Tips.