Have you ever asked yourself what kind of material they used for Barbie hair? I did ask myself this question years ago and I found the answer. The answer is not so easy to explain. The material changed within the years. I'm not 100% sure but I think the early Barbie( 1959 – 1984?) dolls had Saran hair only. Some of the early Barbie dolls and their friends have the problem that the hair feeling is similar to straw. Maybe they changed the composition of materials within the decades?
Anyway, nowadays you can buy Saran hair, Nylon hair and Kanekalon hair ( used from the late 1980s on ).
You can see Saran on the right and Nylon on the left. Nylon hair was used for the Rockers and Rockstar series in the mid 1980s. I assume there are more Barbie dolls with Nylon hair but I don't have all of them so that I can look it up. Nylon hair is much shinier than Saran hair. Saran hair is available in natural colours like blond, brunette, titian and black. The main difference is the effort to style it. Nylon hair is easy to style. Just one hot water treatment and the job is done. For Saran you need more effort. It's not so easy to bring it in any form you want it to. It has a kind own character.
The third material is Kanekalon hair. Kanekalon was first seen in the late 1980s and has a feeling like wadding. It's also called wadding hair among collectors. It was mainly used for the 1990s dolls with massive amounts of hair like Totally Hair Barbie or Jewel Hair Barbie. I assume the reason they used it is the price. Saran is more expensive. Hollywood Hair on the other hand has Saran hair.  Kanekalon hair tends to tangles. You think you have all tangles out and bang new ones are in.  No problems for collectors but for children a real nightmare.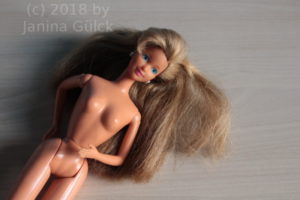 Kanekalon was widely used for Barbie dolls in the 1990s. Ski Fun Barbie & Midge, Paint n Dazzle Barbie and many more had Kanekalon hair. There are a few exceptions like the Strolling Fun Barbie & Kelly.