Table of Contents
After an 18-month hiatus, the pizza party is finally back on! And what better place to have it than Pizza Hut? Today, we gather to celebrate with Skipper, Courtney, and Kevin, our three beloved dolls who bring so much joy and laughter into our lives.
Skipper: The Special-Head Mold Doll
One of the highlights of this pizza party is the presence of Skipper, a unique doll with her own special head mold. This mold is not commonly used, but I happen to love it. The sculpt of Skipper's face captures her mischievous and playful nature perfectly. She has those adorable dimples and twinkling eyes that instantly bring a smile to your face.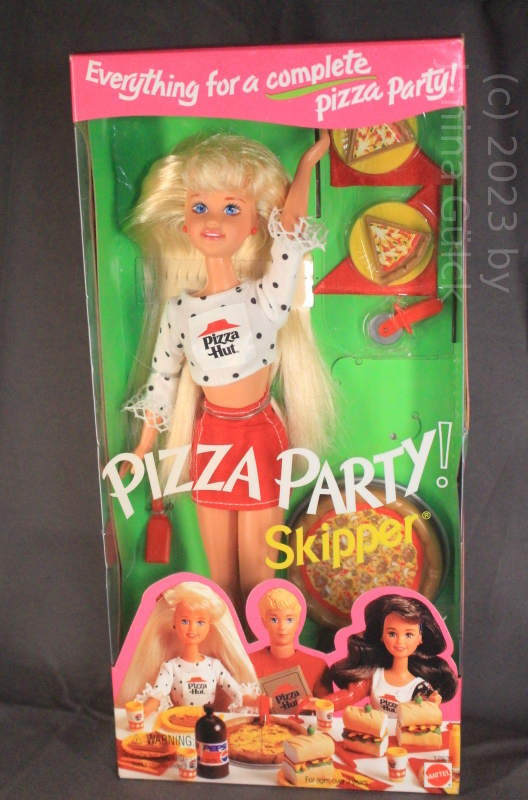 Courtney: Best Friend Forever
Alongside Skipper is Courtney, her best friend and constant companion. Courtney's optimistic and bubbly personality complements Skipper's mischievous charm. Together, they make the perfect pair, always ready to embark on a new adventure or solve a mystery.
Kevin: The Boy Friend
Kevin, our boy friend, rounds out the trio. With his kind and caring nature, Kevin brings a sense of stability and warmth to our little doll world. Whether it's sharing a pizza slice or lending a helping hand, he is always there to support Skipper and Courtney.
Pizza Party at Pizza Hut
And now, the moment we have all been waiting for – the pizza party at Pizza Hut! The smell of freshly baked pizzas fills the air, and the sound of laughter echoes throughout the restaurant. Skipper, Courtney, and Kevin, dressed in their casual attire, are eagerly anticipating the arrival of their delicious feast.
As the waiter brings over the pizzas, our dolls' eyes light up with excitement. They take turns choosing the toppings, each creating a unique pizza that reflects their own preferences. From classic pepperoni and cheese to more adventurous combinations like Hawaiian and vegetarian, there is no shortage of choices for everyone to enjoy.
While they eat their pizzas, our dolls engage in lively conversations, sharing hilarious anecdotes about their adventures and secrets. They reminisce about the times they have spent together, creating memories that will last a lifetime.
Memories of the 90s
In addition to pizza, Pizza Hut also offers a variety of sides and desserts, allowing our dolls to satisfy their cravings for more than just savory pies. They indulge in cheesy garlic bread, garden salads, and delectable chocolate sundaes, creating a feast fit for royalty.
As the night comes to a close, our dolls' energy levels reach an all-time high. They dance to the infectious tunes of the jukebox, creating their own mini disco on the floor. The laughter continues, and it is clear that this pizza party has exceeded all expectations.
So, as we gather our dolls and bid farewell to Pizza Hut, we can't help but feel a sense of gratitude. Their presence in our lives has brought endless joy and laughter, and a pizza party like this is just a small token of our appreciation for them.
In conclusion, the pizza party with Skipper, Courtney, and Kevin at Pizza Hut was nothing short of magical. The combination of their unique personalities, special head molds, and a shared love for pizza made this celebration truly unforgettable. We can't wait for the next pizza party, where new memories will be created and old ones will be cherished.