I know it's a bit late for the Holidays and today is the first day of February. Nevertheless I'd like to show you my first Happy Holidays (HH)  from India. I like Barbie dolls from India but they are hard to find.  I've collected the Holidays series since 1996. I hoped to find the Indian issues too. I was lucky and found one. She has the box of the 1995 Happy Holidays and on the back you can see a pic of a 1995 Purple Passion Barbie from Toys 'R' Us. I have no idea if this was planned or not. The other Holiday dolls have pics of themselves on the back. The box of the 1995 Happy Holiday has a promo pic of a 1995 HH Barbie e.g..
One of the reasons to collect Barbie dolls from India is for me the painting in their faces. It's very different from normal Western Barbie dolls, not so exorbitant.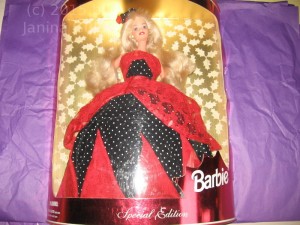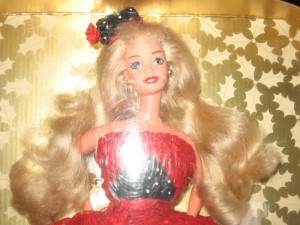 I hope you can see what I mean.