Palmers, an Austrian lingerie company known for its exclusive lingerie collections, once ventured into the world of Barbie dolls. In the late 1990s, they released a series of Barbie dolls adorned with their luxurious lingerie. Today, we will take a closer look at one particular doll from the year 2000, featuring a stunning silver and sparkly glamour.
Palmers, renowned for its exquisite craftsmanship and attention to detail, brought their expertise to the world of Barbie dolls. This collaboration resulted in a collection that seamlessly blended the elegance of Palmers lingerie with the timeless charm of Barbie.
The Palmers Barbie doll from 2000 captures the essence of sophistication and glamour. Dressed in a mesmerizing silver lingerie set, this doll exudes an aura of luxury and style. The intricate detailing and shimmering fabrics used in the lingerie create a truly captivating ensemble.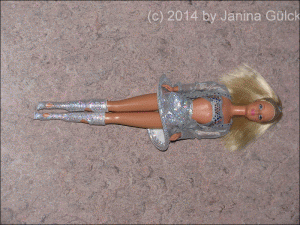 The doll's lingerie set is exquisitely designed, featuring delicate lace patterns and intricate embellishments. The silver color adds a touch of elegance and highlights the doll's inherent beauty. The sparkles on the lingerie further enhance the doll's overall allure, exuding a sense of enchantment and glamour.
The Barbie doll you see here is a testament to the brand's commitment to providing exclusive and high-quality lingerie. This collaboration between Palmers and Barbie showcases the harmonious blend of fashion and fantasy, creating a unique collector's item that stands out in the world of dolls.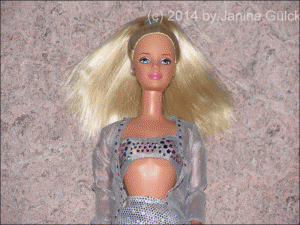 Not only is this Barbie doll a visual delight, but it also serves as a reminder of the evolution of fashion and the influence lingerie has on women's confidence and self-expression. Palmers, with its rich heritage and expertise in lingerie, brings a touch of sophistication and elegance to the Barbie world.
Whether you are a collector, a fashion enthusiast, or simply someone who appreciates the beauty of Barbie dolls, the Palmers Barbie from 2000 is a must-have addition to any collection. Its silver and sparkly glamour, combined with the exclusivity of Palmers lingerie, make it a true treasure.
In conclusion, the Palmers Barbie from 2000 is a stunning representation of the collaboration between a renowned Austrian lingerie company and the iconic Barbie brand. Its silver and sparkly glamour encapsulate the essence of Palmers' exclusive lingerie, making it a timeless collector's item that celebrates the beauty of fashion and self-expression.
The company still exists today if you want to have a closer look at their collection, https://www.palmers.at/ here you can.