I am thrilled to announce that my Hollywood Hair Barbie collection is finally complete! After years of searching and waiting, I was able to add Ken to my doll family just this week. Now, all four dolls are together, creating a stunning display of beauty and style. My little Hollywood Hair Barbie family is complete now.
Ken, with his dashing looks and impeccable fashion sense, is the perfect addition to the Hollywood Hair Barbie family. Standing alongside Hollywood Hair Teresa in orange, Hollywood Hair Skipper in turquoise, and the iconic Hollywood Hair Barbie in white, Ken completes the vibrant and fashionable quartet.
Each doll in this collection is unique and brings its own charm to the group. Hollywood Hair Teresa, with her fiery orange outfit, exudes confidence and charisma. She is a true fashion icon, always setting trends with her bold and daring style choices.
Hollywood Hair Skipper, with her stunning turquoise locks, is the epitome of youthful energy and fun. She is always ready for an adventure and never shies away from trying new hairstyles and experimenting with different looks.
Of course, no Hollywood Hair Barbie collection would be complete without the star of the show herself. With her flowing white and glamorous outfits, Hollywood Hair Barbie is the embodiment of elegance and grace. She is the ultimate fashionista, effortlessly capturing the essence of Hollywood glamour.
Now that Ken has joined the group, the Hollywood Hair Barbie family is complete. They are not just dolls; they represent a world of imagination and creativity. Each doll allows me to explore different hairstyles, mix and match outfits, and create endless stories and adventures.
Having all four dolls together in my collection brings me immense joy and satisfaction. It's like having a little piece of Hollywood right in my own home. I can't help but feel inspired by their beauty and style, and I can't wait to see what new looks and hairstyles I can create with this complete set.
If you are a fan of Barbie dolls, I highly recommend adding the Hollywood Hair Barbie collection to your own collection. These dolls are not only stunning to look at, but they also provide endless possibilities for creativity and imagination. Whether you're a seasoned collector or just starting your Barbie journey, the Hollywood Hair Barbie family is a must-have.
In conclusion, I am thrilled to have finally completed my Hollywood Hair Barbie collection with the addition of Ken. With each doll representing a unique style and personality, this quartet brings a touch of Hollywood glamour into my world. I can't wait to continue exploring different hairstyles and creating new adventures with these fabulous dolls.
Now I have this series complete after almost 25 years. I had the Barbie doll in my childhood and wanted Skipper and Teresa but I never got them. I had not enough money to buy them all when I was a child. Barbie dolls were expensive back then in Germany. I needed the milk money of approx. two months to buy one. I think in 2010 I got Skipper and Teresa and Ken was still missing. Now have this series complete.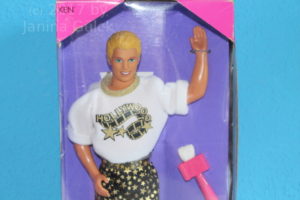 and the whole series …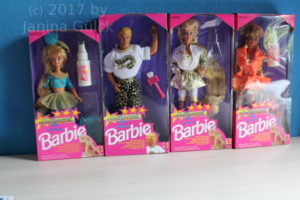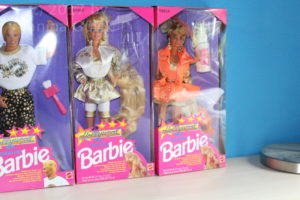 I can't say what was in the bottles back then. Some say it was only water. Some say it was a special liquid and the Saran hair got a special treatment so that you could make it shimmer in pink as soon as you sprayed with the liquid.  The sad thing was that the smell was incredibly awesome but the stars disappeared very soon.