In the last weeks I came across the idea to create something new for my little Francie. I love to be a creative artist and I really enjoy designing own clothes for my famous fashion dolls. I could do it all day long but I hardly have the time to do it but I really love to do it and use the time for creativity. That's how the idea a "Solo in the Spotlight" for Francie came into existence.
In the last year I created a lot of easy clothes for Francie, the cousin of Barbie. In January I had the idea to make something like a "Solo in the Spotlight" for Francie. It's a night club gown. I don't have this dress yet so I give you a link that you know what I'm talking about. https://www.fashion-doll-guide.com/Vintage-Barbie-Solo-In-The-Spotlight.html
I created a top for Francie last year when I did a kind of circle skirt-dress for her and I used it for this idea too because it fits quite well. Then last autumn I played around with designs for skirts. I tried to make a pencil skirt for her. That was not very hard. You can see how I did this here https://youtu.be/IilLSlJTXFE and here https://youtu.be/Allj1knKfLg
It's basically the same pattern. Then I added a the pencil skirt, made it longer and added the circle to the bottom of the skirt. The idea for this circle came from the Barbie Fashion Designer program Mattel published in the 1990s for PCs. I know the fashions don't really fit when you put them in fabric. You have to re-design them for fabric but it's ok. You can work with them when you know how to modify them. Now they are almost a picture of their time. I mean the 90s are almost gone for 2 decades but I'm really happy to have lived on earth back then and I'm glad I have these old PCs programs running on my old PC. I also have an old printer for printing them.
The idea behind the dress was simply to test if my idea would work out in the way I wanted it too. I did some tests and I worked out in the way I wanted it to. I know I always use white or another simple color for my tests but for me it's okay. In the next weeks I plan to do more of these simple pieces of clothes. You know when you have some basics you can play with them and can put them together in a very creative ways. That's my idea at the moment. I just want to play around a little bit with the pieces I have at the moment and put them together in new creative ways so that you can get new pieces with low effort.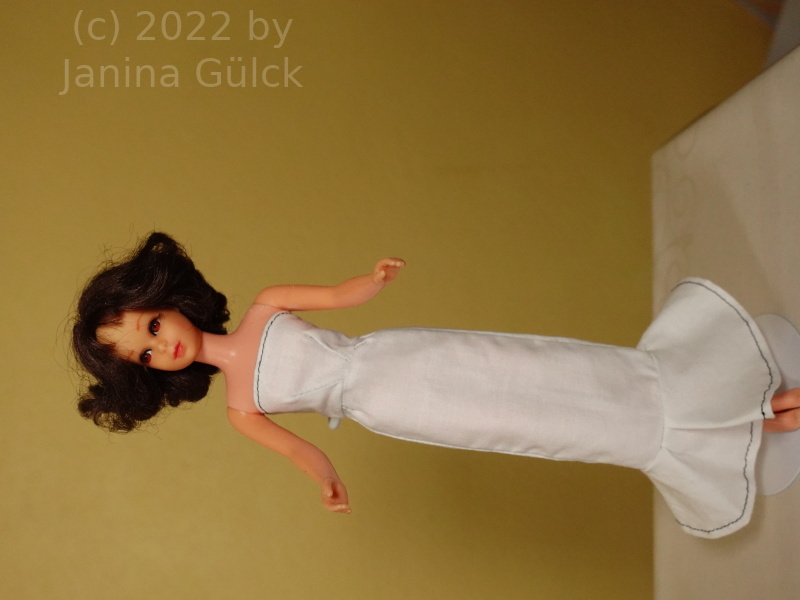 It was not important here to make a realistic piece of clothing from the 1960s. Some other collectors complained about that it would have been unrealistic but I think we are not in the 1960s anymore. It does not matter here. The idea behind this whole project is still if it is possible to create a "Solo in the Spotlight" for Francie, not the question if it is a realistic dress or not.