I dedicate this article to the topic how to change a fashion doll arm. I have only Barbie family members so this is only valid for Vintage Barbie, Francie, Midge, Ken and Skipper. The joints were changed later so that this is not possible in the same way for later dolls.
What I can tell you about this topic is that it is not hard, like always when I talk about Barbie. It is simple when you know how to do it, what to use in the process and what to avoid.
One thing all of the above mentioned dolls have in common is the arm joint. It's the same one for all dolls. That makes it easy to show it only once and you can use it for all dolls.
I refer to Barbie only here because I only have Barbie dolls. I don't collect any other fashion dolls.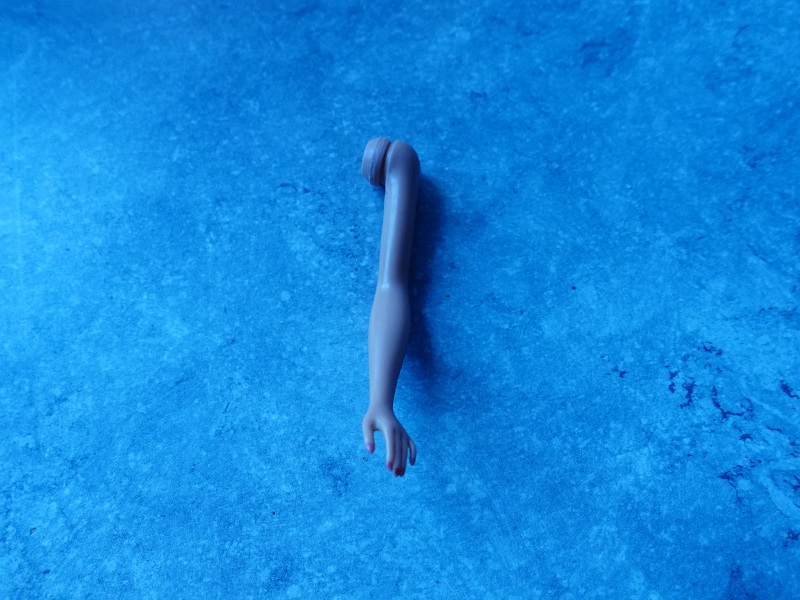 For reasons of easiness let's start with what will expect you. Have a look at one of these arms. As you can see the construction itself is very simple. The arm and the joint are made from one piece. I think it was easy to design, easy to make a mass production of these arms and the were cost effective. More pieces per doll would be more expensive. The less pieces per doll you have to assembly the cheaper the production/ assembly costs.
I think it was not intended that doll docs would ever write about the topic in the future but this construction is also easy to repair. You can replace the arm with another arm. Of course you need one from the same doll type like Barbie – Barbie, Skipper – Skipper and so on. It would not work for different doll types simple because of the different size.
The lengths and joint sizes for the dolls are simply different. You would see it immediately when you replace a Francie arm with a Skipper arm. The lengths are simply different. I came across this topic because I recently bought Francie arms and in reality they are Skipper arms. The difference is very small but you would see it.
I hope it is clearer to you now how to change a fashion doll arm and you know what to look for and what to avoid. If you want to read more about my Francie project have a look in this article http://barbie.final-memory.org/francie-and-how-to-restore-her